BUJU BANTON "TILL SHILOH "ALBUM CERTIFIED RIAA GOLD & 25TH ANNIVERSARY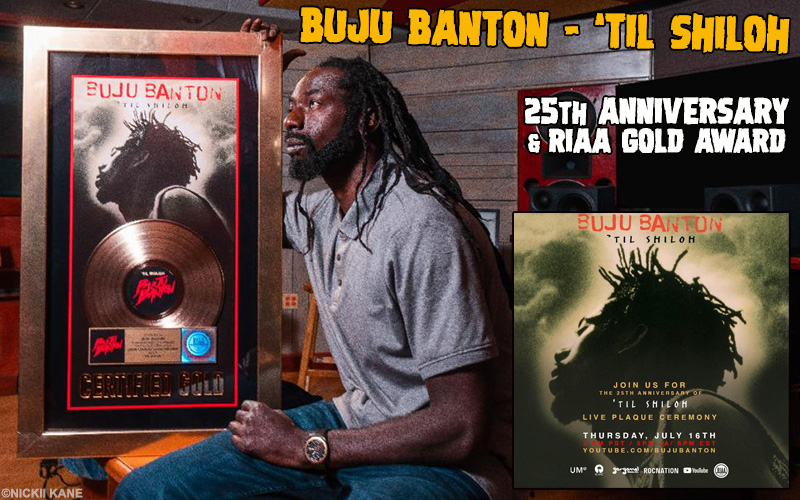 Island/UMe celebrate the birthday of Buju Banton, the Jamaican dancehall innovator, today, July 15 and the 25th anniversary to his boundary-shattering masterpiece, 1995's 'Til Shiloh, which turns 25 on July 18.
'Til Shiloh, named after a saying meaning "forever," pivoted from Banton's previous rude-boy style to introspective roots reggae. With Donovan Germain, Lisa Cortes, Bobby "Digital" Dixon, Dave Kelly, Sylvester Gortonand Steely & Clevie behind the board, Shiloh's introspective themes, innovative use of digital programming and prayerful vibe changed reggae and dancehall permanently.
Island/UMe celebrate buju banton
Til Shiloh was acclaimed by BBC as "a very listenable landmark" which "saw the brash 'rockstone' deejay turn dreadlocked throwback," by Spin, which called it the 10th best album of 1995 and his voice "an uncontrollably vibrant lickshot of adrenaline," and by The Village Voice's Robert Christgau, who awarded the album an A-minus, as "the most fully accomplished reggae album since the prime of Black Uhuru."
On September 27, 2019 'Til Shiloh reached the RIAA Gold Status (500,000 units sold).
Fans from around the globe will be able to watch as Buju Banton receives an RIAA (Recording Industry Association of America)certified Gold album for 'Til Shiloh. In a first for Banton, who resides in Jamaica, the presentation will be via YouTube Live with UMG executives Bruce Resnikoff, President & CEO, UMe, in Los Angeles, and Darcus Beese, President, Island Records in New York. Additional guests include RIAA Chairman andCEO Mitch Glazier and RIAA Chief Operating Officer Michele Ballantyne in Washington, D.C.
Watch on July 16 at 3PM PST / 5PM JA / 6PM EST BELOW:
Source: reggaeville.com
290 Total Views, 2 Views Today