Rare Bob Marley Guitar Broken During Lovers' Quarrel With Cindy Breakspeare Up For Auction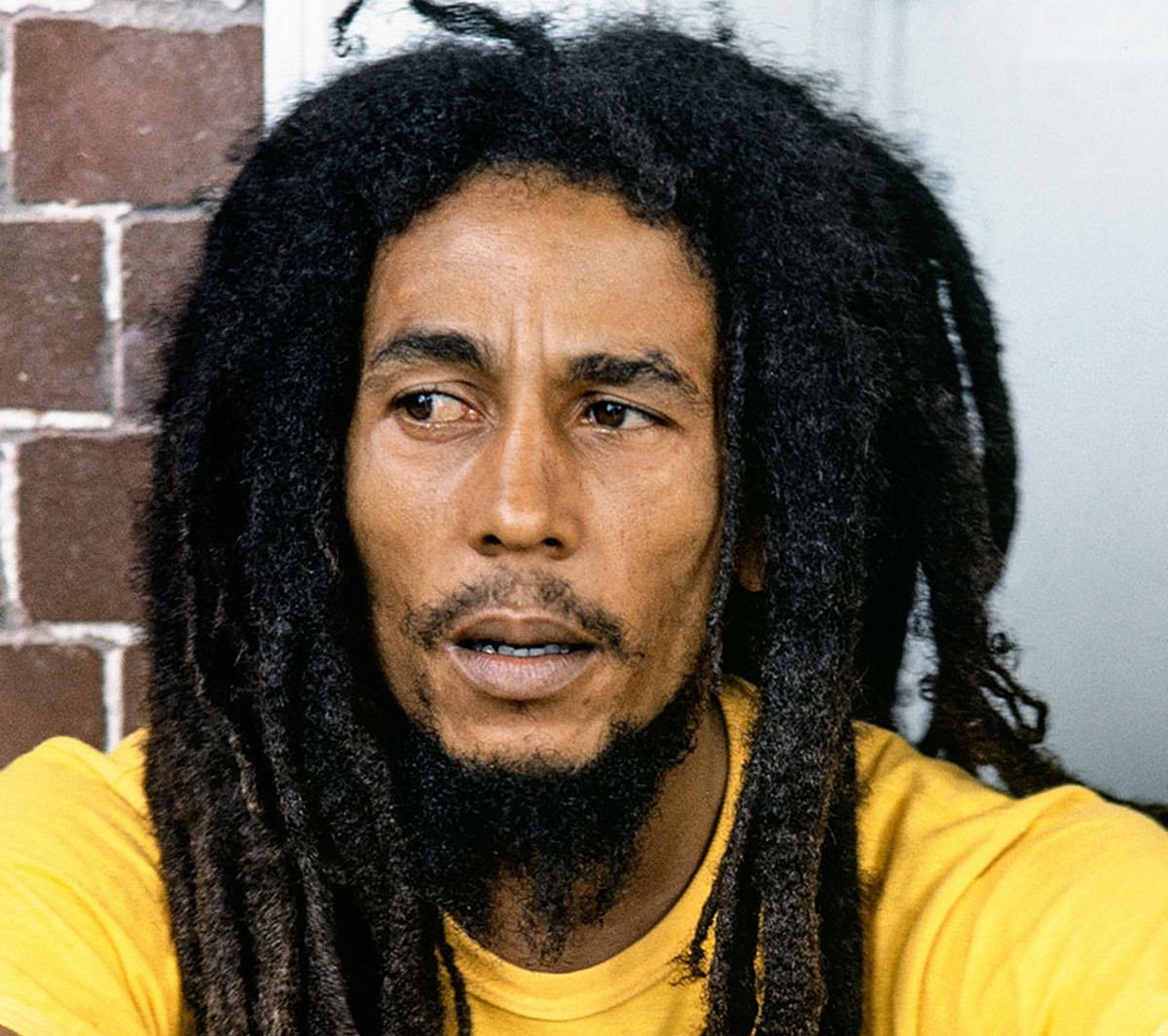 Bob Marley's rare 1975 Ovation 1612-4 Custom Balladeer acoustic/electric guitar is set to be auctioned by Julien's Auctions', Icons and Idols Trilogy: Rock and Roll annual sale, which will be staged from December 1 to 2.
The Circa 1975 guitar which bears the serial number 041 724, is expected to be sold for between US$80,000 and US$100,000 or up to $13 million-plus Jamaican dollars.
The instrument was reportedly given to Marley by Island Records' Chris Blackwell who had bought it as a present for him in London, decades ago.
The auctioneers say the guitar, which comes in a brown molded hard case, "has a natural spruce top with shallow back, ebony fingerboard with diamond-shaped mother of pearl inlays, an 8 inch crack to the top, neck repaired, two cracks to binding around sound hole".
According to the auctioneers, Marley gave the guitar to his friend Benji Levy in 1979.  The two had become friends in 1973, when Levy sold his blue BMW 2500 to Bob at a car dealership in Jamaica.  Levy had told Bob that the letters B.M.W "stood for Bob Marley and the Wailers" the auctioneers noted on their website.
The No Woman No Cry singer gave the guitar to Levy the day after it was damaged during a lovers' quarrel between himself and Cindy Breakspeare, at his hotel suite in 1979, where the former Miss World, who is the mother of Damian 'Junior Gong' Marley, whacked him with the guitar.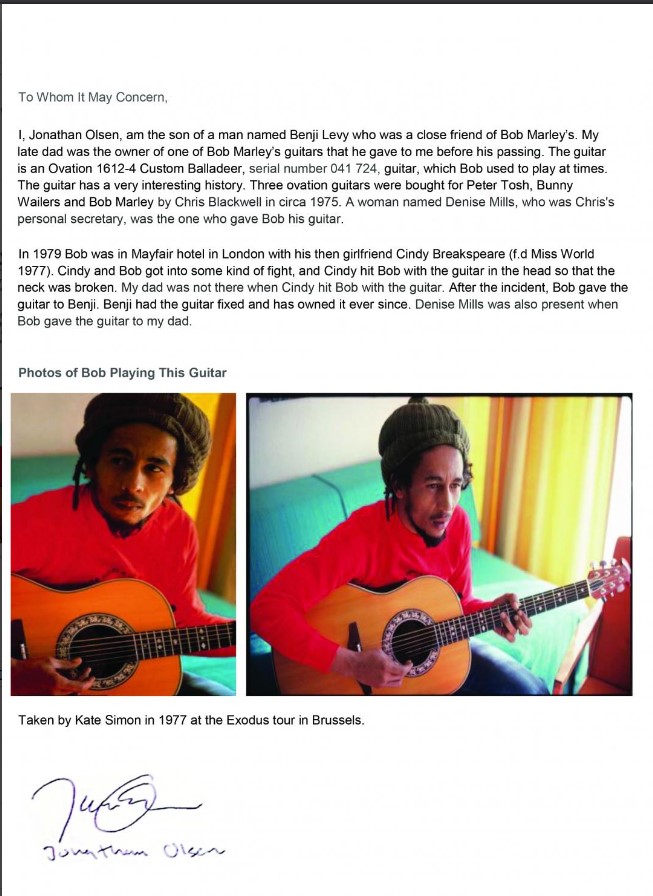 "Apparently the guitar's neck was damaged when Marley and his girlfriend Cindy Breakspeare were staying in a Mayfair, London hotel circa 1979 and got into an argument and Breakspeare hit Marley with the guitar. Marley gave the guitar to Levy who had the guitar repaired," they stated.
Marley who wrote many of his Survival album tracks using the guitar before it was damaged, later replaced the instrument with a newer model Ovation guitar.
The winning bidder on December 2, in addition to the guitar, the winning bidder will get an accompanying notarized letter from Benji Levy's son Johnathan Olsen.
In January this year, Marley's Washburn 22- Series Hawk guitar was ranked as the fifth most expensive guitar on earth.
The instrument which was valued at US$1.2 million, was also classified as a national asset by the Government of Jamaica and was said to be one of only seven known guitars owned by the Reggae legend.
Scholars of Marley had said that the 22 fret double-cutaway Washburn guitar was one of his favourites.
After the Wake Up and Live singer died in 1981 at age 36, the Jamaican government led by then Prime Minister Edward Seaga declared most of Marley's assets, including the Washburn, as national treasures.
Images of Marley with his other guitars, the acoustic or Gibson Les Paul rhythm guitar, with which he is said to have been buried along with his football and a stalk of ganja, have been enshrined by numerous photographers and sculptors.
The St. Ann native is said to have also owned a 1070s Fender Stratocaster and a Yamaha SG1000, which he played during The Wailers' last tour in 1979.   He also gave away that guitar at the time it to the band's bassist, Aston Barrett,.
Several other several acoustic guitars were said to have been owned by the One Love singer, including an Ovation Adamas, best known from the acoustic recording of Redemption Song and a 1972 Guild 12-string which can be heard on the studio recordings of Time Will Tell and Is This Love.
92 Total Views, 2 Views Today