BEST REGGAE ALBUM NOMINATIONS 63RD GRAMMY AWARDS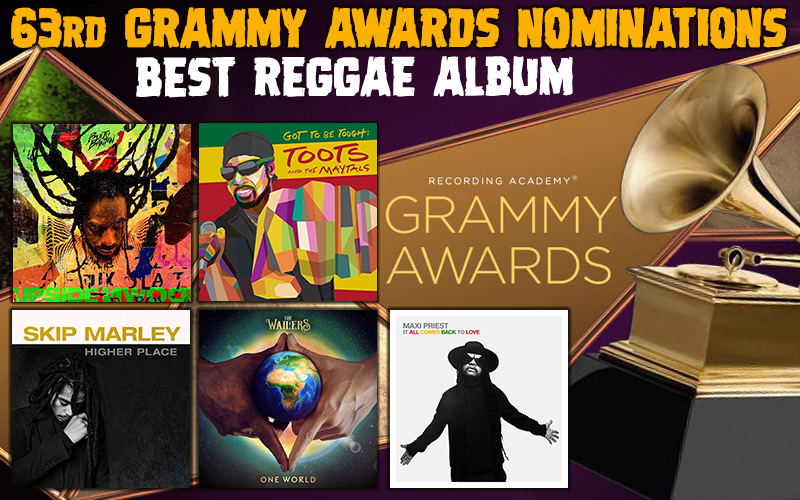 The 63rd Annual Grammy Awards nominees have been revealed. Congratulations to all nominees! Five releases made it to the final round and winners will be awarded in January 2021.
What are the eligibility requirements for nominations?

For the 63rd Annual GRAMMY Awards, recordings must be released between September 1, 2019, and August 31, 2020. To be eligible, recordings must be for sale commercially via general distribution or made available as a digital recording, either for sale or via a recognized streaming service.
To be considered an album, recordings must contain at least five different tracks and a total playing time of 15 minutes or a total playing time of at least 30 minutes with no minimum track requirement. Recordings (albums/singles) must be available to the public as stand-alone purchases or audio-only streams.
BEST REGGAE ALBUM – NOMINEES
Shortly after the Grammy announcement The Wailers' Aston Barrett Jr. told Reggaeville: "I am more than thankful to the Academy for the nomination of The Wailers for best Reggae Album of the year. We have worked so hard to create this album. For years, I have been carrying the sound & legacy of the Barrett family and to be honoured by this nomination is very touching. Special thanks to Emilio Estefan, everyone at Sony Latin and our talented team for all their dedicated hard work. One World, One Love!"
In reaction to the nomination Buju Banton published a short statement on social media "Let the music speak, I wanna be a silent listener. Thanks to all. A telling album in telling times."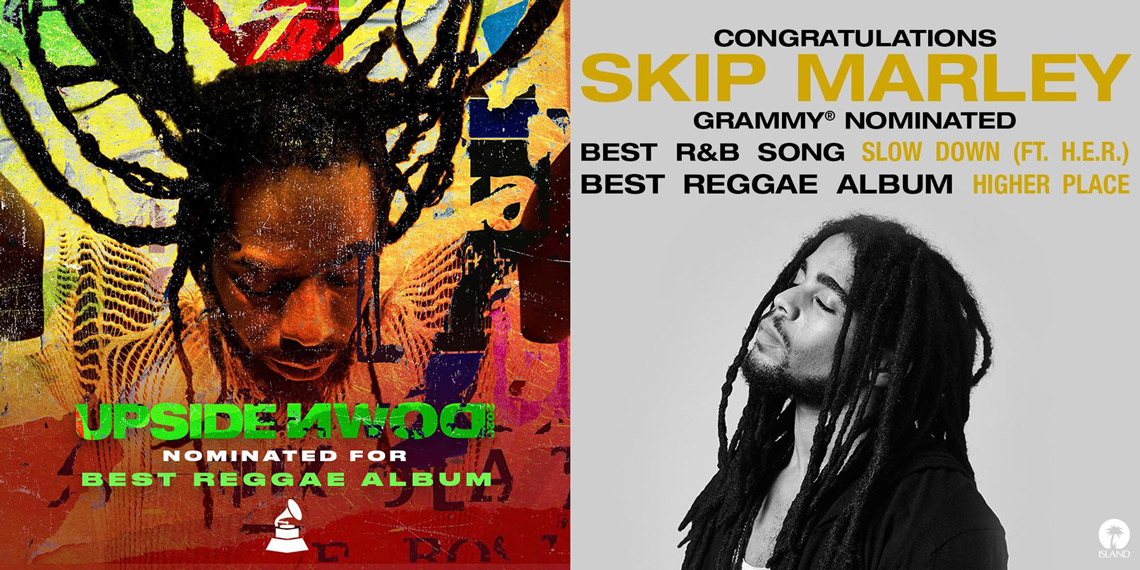 REGGAE NOMINATION HISTORY 
Maxi Priest's album is the only release from 2019. Third Grammy nomination.
Shaggy is featured on four songs on It All Comes Back To Love.
Buju Banton's 5th nomination. One win.
Skip Marley's Higher Place 7 track EP features Damian Marley.
Toots & The Maytals 6th nomination (plus one for the album Toots in Memphis by Toots). One win for True Love (2005).
Toots Hibbert passed away September 11, 2020. So far there has only been two posthumous nominations in the Reggae category, when Dennis Brown (RIP 1999) was nominated for his 2000 album Let Me Be the One and Peter Tosh (murdered in September 1987) with No Nuclear War (1987), which was awarded as winner in March 1988.
First nomination for The Wailers led by Aston Barrett Jr.
Skip Marley's mother Cedella Marley is featured on the Wailers' album title song. So is Shaggy!
Skip Marley got a second nomination in the category BEST R&B SONG for his combination Slow Down with H.E.R. 
Recent album releases by Ziggy Marley (More Family Time), Shaggy (Christmas In The Islands), and Spragga Benz (The Journey Choosen), were released after August 31. They have to be submitted for the next Grammy.
The 63rd Annual GRAMMY Awards, hosted by comedian Trevor Noah,  will be broadcasted on the CBS Television Network Jan. 31, 2021.
Here is the complete list of previous winners in the REGGAE CATEGORY*:
1984 Black Uhuru – Anthem
1985 Jimmy Cliff – Cliff Hanger
1986 Steel Pulse – Babylon the Bandit
1987 Peter Tosh – No Nuclear War
1988 Ziggy Marley & The Melody Makers – Conscious Party
1989 Ziggy Marley & The Melody Makers – One Bright Day
1990 Bunny Wailer – Time Will Tell: A Tribute to Bob Marley
1991 Shabba Ranks – As Raw As Ever
1992 Shabba Ranks – X-tra Naked
1993 Inner Circle – Bad Boys
1994 Bunny Wailer – Crucial! Roots Classics
1995 Shaggy – Boombastic
1996 Bunny Wailer – Hall of Frame: A Tribute to Bob Marley's 50th Anniversary
1997 Ziggy Marley & The Melody Makers – Fallen Is Babylon
1998 Sly and Robbie – Friends
1999 Burning Spear – Calling Rastafari
2000 Beenie Man – Art and Life
2001 Damian Marley – Halfway Tree
2002 Lee Perry – Jamaican E.T.
2003 Sean Paul – Dutty Rock
2004 Toots & the Maytals – True Love
2005 Damian Marley – Welcome to Jamrock
2006 Ziggy Marley – Love Is My Religion
2007 Stephen Marley – Mind Control
2008 Burning Spear – Jah Is Real
2009 Stephen Marley –  Mind Control Acoustic
2010 Buju Banton – Before the Dawn
2011 Stephen Marley – Revelation Pt. 1 – The Root of Life
2012 Jimmy Cliff – Rebirth
2013 Ziggy Marley – In Concert
2014 Ziggy Marley – Fly Rasta
2015 Morgan Heritage – Strictly Roots
2016 Ziggy Marley – Ziggy Marley
2017 Damian 'Jr Gong' Marley – Stony Hill
2018 Sting & Shaggy – 44/876
2019 Koffee – Rapture
2020 ???
*CATEGORY NAME CHANGE:
BEST REGGAE RECORDING (1984 – 1990)
BEST REGGAE ALBUM (1991 – 2020)
333 Total Views, 2 Views Today