RIP ALBERT GRIFFITHS – FOUNDER OF THE GLADIATORS PASSED AWAY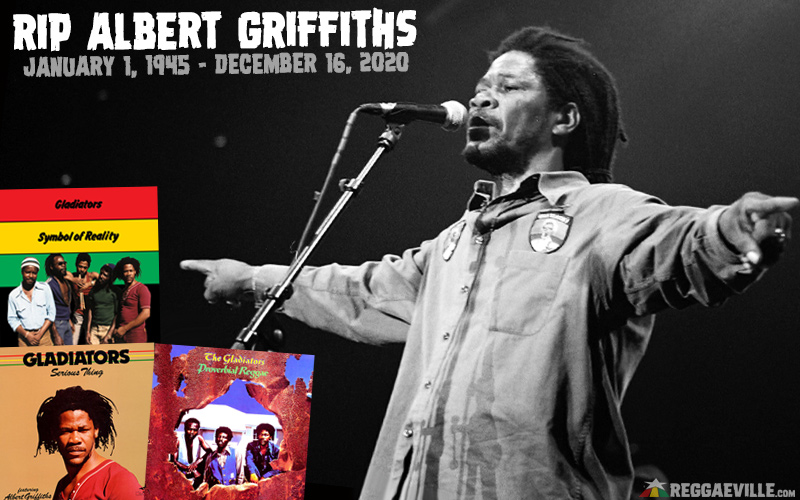 Albert Griffiths, one of the most influential Roots Reggae singers and musician, "passed away on Wednesday (12/16/2020) morning at his home in St Elizabeth", as the Jamaica Gleaner informs us.
He founded The Gladiators in 1965 with his childhood-friends David Webber and Errol Grandison (who were later replaced by Clinton Fearon and Gallimore Sutherland), and recorded hits like Bongo Red, Roots Natty and Hello Carol with Clement "Sir Coxsone" Dodd (Studio One). Subsequently, Virgin offered them their first contract in 1976, which resulted in their debut album Trenchtown Mix Up. After leaving Virgin in 1980, they signed with Nighthawk Records and Heartbeat, releasing 11(!) studio albums in the eighties. This production work was accompanied by excessive touring through Europe, the United States, South America and the Pacific, and the name of The Gladiators remains a staple throughout the world of Reggae.
Diagnosed with Parkinson's disease, Albert withdrew from the stage after publishing the album Father And Sons (2004) that introduced his sons Al and Anthony to the group and doing a last tour in 2005.
Cabel "Jeffrey" Stephenson, manager of The Gladiators and Toots Hibbert, is quoted saying "Those men were totally dedicated to the music [and] left enduring legacies that must be cherished. Albert always said that when he goes on stage, he is there to minister. I am very honoured to have worked among these great men, and they have taught me to be humble." [Jamaica Star].
Albert Griffiths would have turned 75 on New Year's Eve.
Voices of the Reggae World:
Clinton Fearon:
"I'm very sad to hear that my brother Albert Griffiths passed away today. It dawned on me that Albert and I will never play music together again, at least not in the flesh. We did some great music together, spent a lot of time together, good times bad times we've been there. We share the same banana, the same dumplin, the same cigarette, lived in the same house. I know it wasn't easy for him these past years as Albert was very sick. Now we can say rest in peace my brother. My condolences to the family."
The Wailers:
"Another legend has left us… Albert Griffiths, iconic member of The Gladiators has passed away today. Albert was a pillar of the foundation of reggae. We are speechless. RIP Albert Griffiths."
Trojan Records:
"We are very sorry to hear about the passing of pioneering reggae singer and musician Albert Griffiths of roots band – The Gladiators."
Groundation:
"Thank you great singer…Albert Griffiths and The Gladiators were some of the first music we performed as a group. "Mix Up" and "Hello Carol" were featured in our sets from the late 90s…Albert Griffiths, your music inspired us and helped to give us the vision to become GROUNDATION – we are forever in your debt. One love…rest in perfect peace."
414 Total Views, 2 Views Today