BOB MARLEY'S OVATION GUITAR UP FOR AUCTION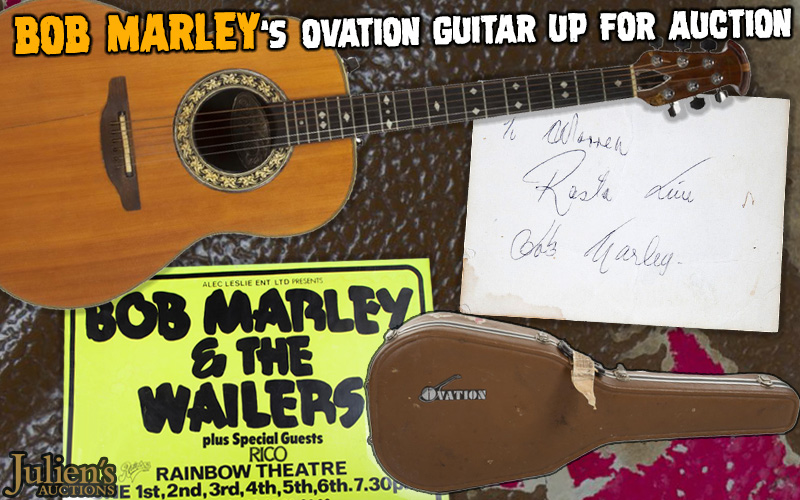 The upcoming auction ICONS AND IDOLS: ROCK 'N' ROLL by Julien's Auctions will feature three noteworthy Bob Marley items and is scheduled for December 1. Online bidding started already. See below the details for the three items, including an Ovation guitar owned and played by Bob Marley in the 70s valued $80,000 – $100,000.
The accompanied story about the guitar that Marley's girlfriend Cindy Breakspeare hit him in an argument with the guitar is an unpublished anecdote from Marley's life. It's part of a notarized letter, which proves the authenticity of the guitar.
UPDATE [11/20/2020]: Reggae archivist Roger Steffens reached out to Cindy Breakspeare to confirm the story about the guitar incident and she replied "Absolute RUBBISH!!!".
We have added a photo of Bob Marley playing this guitar, which was taken in Brussels (Belgium) in 1977 by Kate Simon.
BOB MARLEY SIGNED NEW YORK CITY RECORD STORE BUSINESS CARD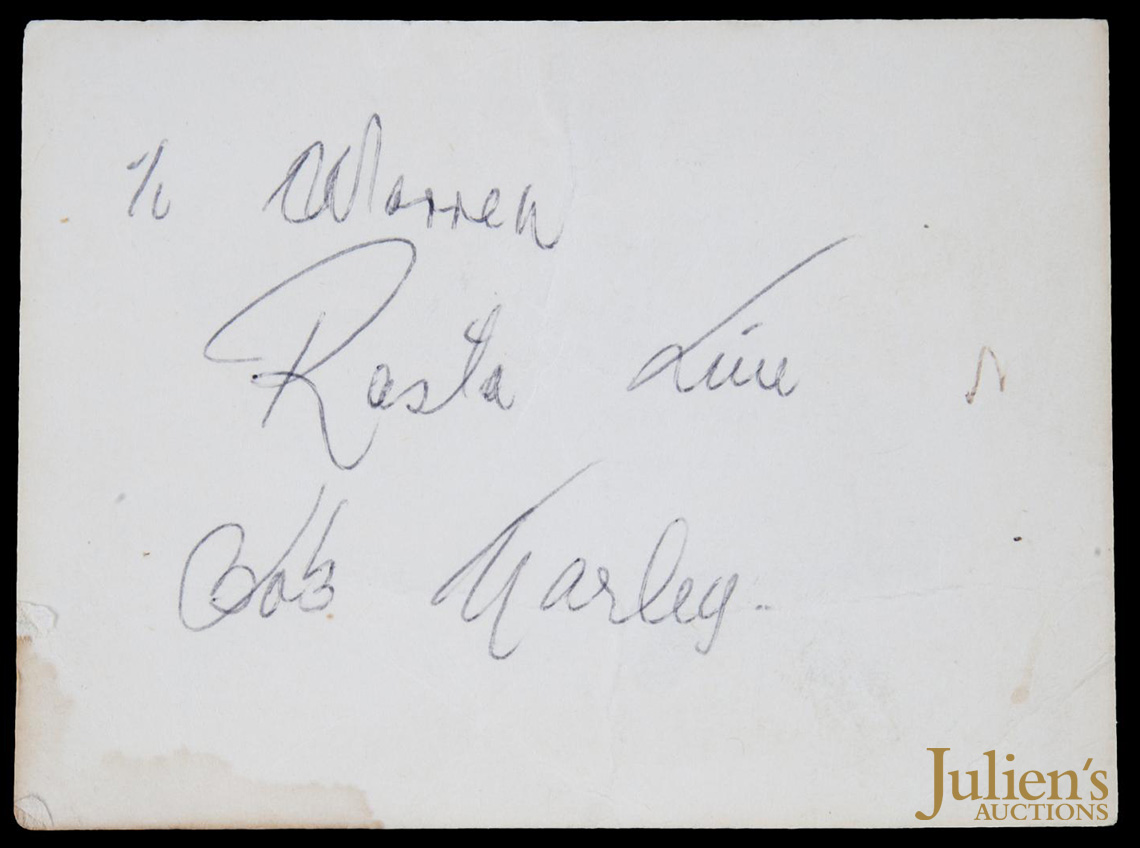 ESTIMATE: $3,000 – $5,000
SOLD: $2,560 ($2,000 Winning Bid + Buyer's Premium Fees 28%)
Description: "A vintage loyalty incentive punch card from Downstairs Records on West 42nd Street in New York City, signed and inscribed on the verso by reggae legend Bob Marley "To Warren, Rasta Live, Bob Marley." The autograph was acquired by the consignor when the record store where he worked was visited by Marley and his road manager, Allan "Skill" Cole."
BOB MARLEY AND TYRONE DOWNIE SIGNED POSTER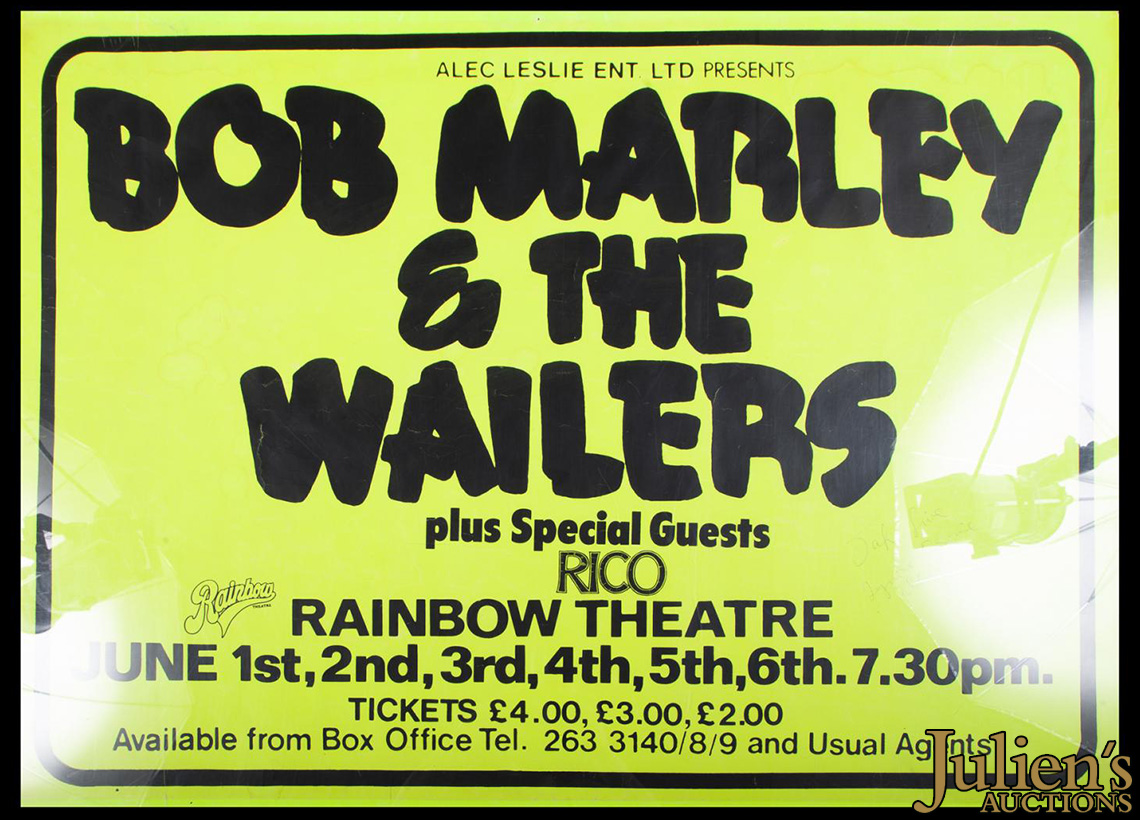 ESTIMATE: $6,000 – $8,000
SOLD: $6,400 ($ 5,000 Winning Bid + Buyer's Premium Fees 28%)
Description: "An original concert poster for the Bob Marley & the Wailers performances at Rainbow Theatre in London June 1-6, 1977, as part of their Exodus Tour. Bob Marley has signed "Rasta Fari Live Bob Marley," and Tyrone Downie has signed "Jah Live Tyrone Downie Wailers." The June 5 and 6 performances were ultimately canceled due to a serious toe injury Marley received prior to the start of the Exodus Tour during a football game with French journalists in Paris."
BOB MARLEY OWNED AND PLAYED OVATION 1612-4 CUSTOM BALLADEER ACOUSTIC/ELECTRIC GUITAR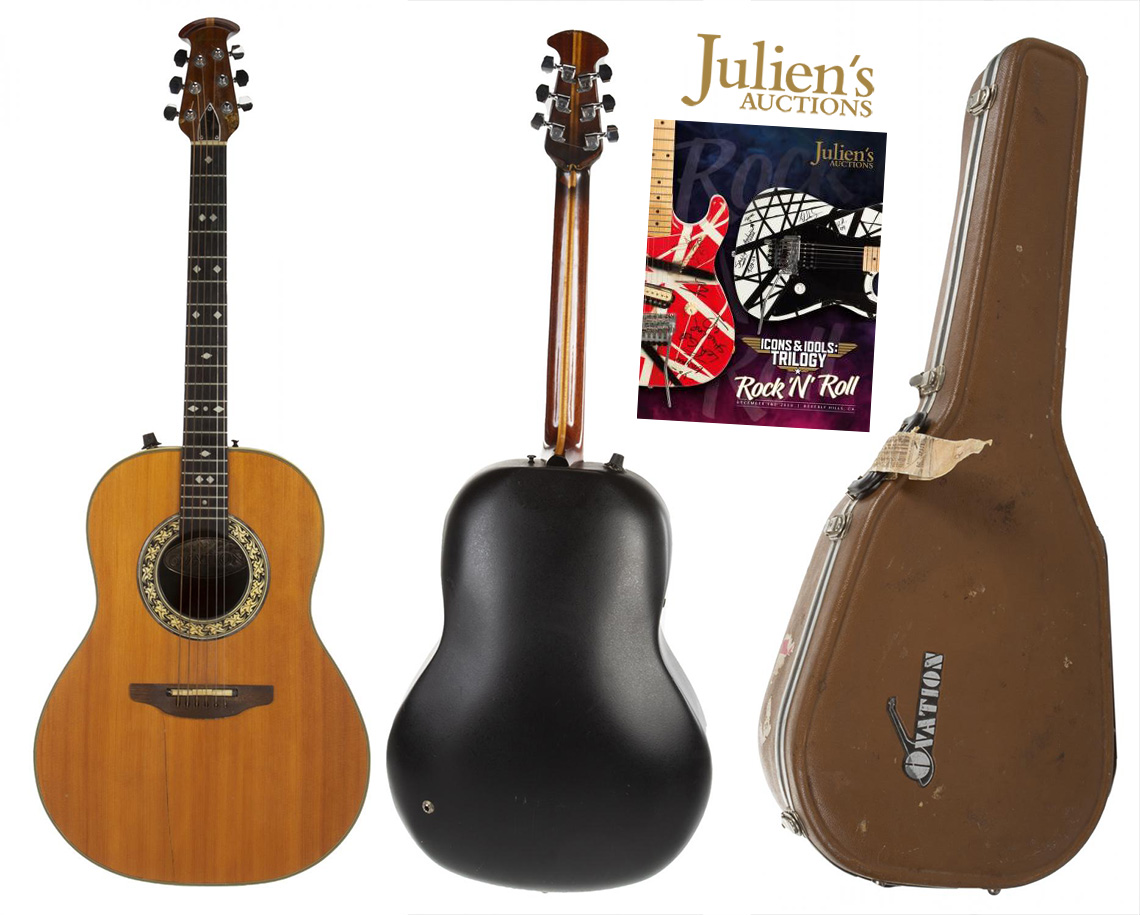 ESTIMATE: $80,000 – $100,000
STARTING: $20,000
SOLD: $153,600 ($120,000 Winning Bid + Buyer's Premium Fees 28%)
Description: "Circa 1975, serial number 041 724, natural spruce top with shallow back, ebony fingerboard with diamond shaped mother of pearl inlays, an 8 inch crack to the top, neck repaired, two cracks to binding around sound hole. In brown molded hard case. Accompanied by a notarized letter from the son of Benji Levy, who was gifted the guitar by Marley. Levy and Marley became friends after they met at a car dealership in Jamaica where Levy was working. Levy was trying to persuade Marley that he should purchase a BMW. When Marley asked why that particular car, in a moment of inspiration, Levy explained that the initials BMW actually stood for Bob Marley and the Wailers! Apparently the guitar's neck was damaged when Marley and his girlfriend Cindy Breakspeare were staying in a Mayfair, London hotel circa 1979 and got into an argument and Breakspeare hit Marley with the guitar. Marley gave the guitar to Levy who had the guitar repaired."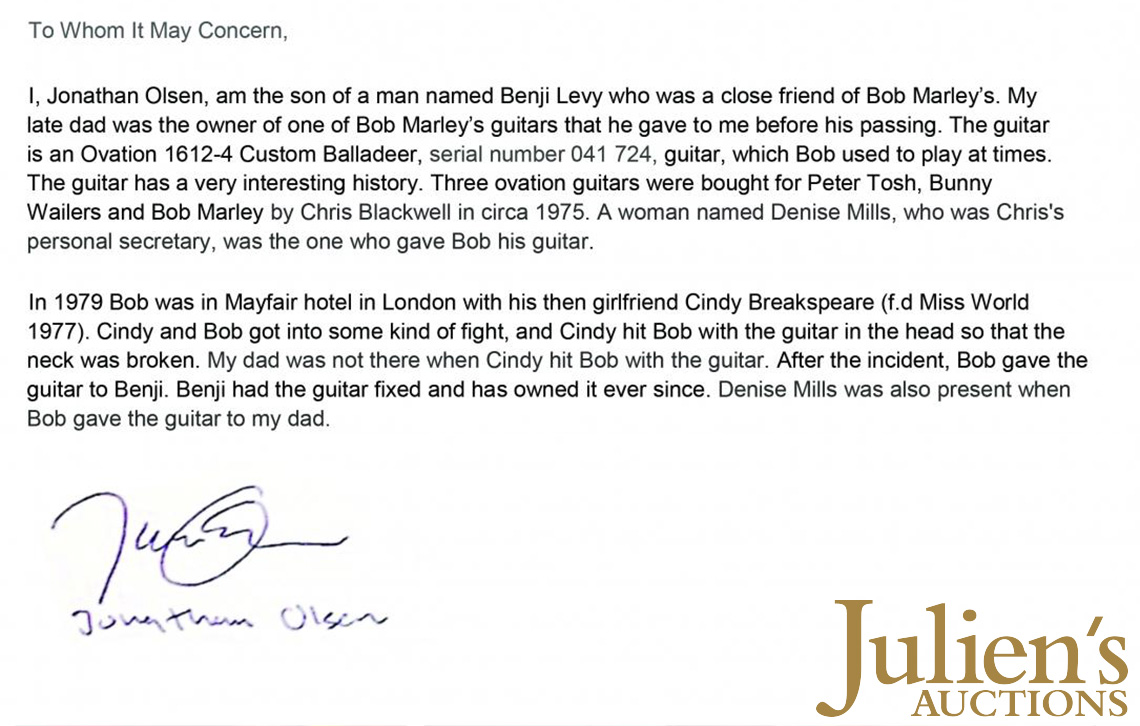 188 Total Views, 6 Views Today