Rastafari Mansion Rejects Dean Frasers' "Nyabinghi Christmas" Album As Sacrilege
Weeks after Reggae singer Jesse Royal was raked over the coals for engaging in a Christmas advertisement featuring Santa Claus, another musician, this time saxophonist Dean Fraser is being criticized by Rastafarians and even non-Rastas, for what they deem to be an even more preposterous gaffe.
The contention surrounds the release of the renowned musician's 16-track album titled Nyabinghi Christmas in November, in collaboration with TAD's Records.
While Fraser's album has been getting rave reviews in some quarters, since his recent public performance of some of the songs just over a week ago on popular entertainment programme Onstage, some persons who viewed the video have expressed displeasure with the notion of a Nyabinghi Christmas.
Members of the Rastafari Millennium Council have also issued an official statement of objection and its members have declared that an injunction ought to be taken to have Fraser cease and desist for continuing that they describe as a commission of sacrilege on Rastafari.
Over on Facebook, Priest Wesley Kelly of the Rastafari Millenium Council, declared that a statement of objection had been issued to the Minister of Culture Olivia 'Babsy' Grange.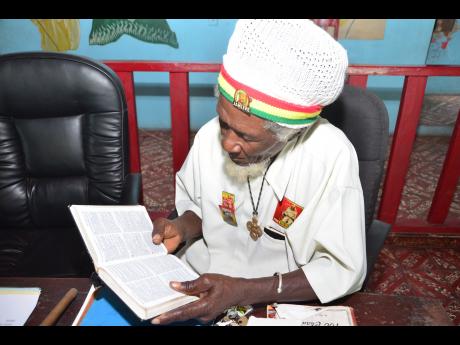 In a post titled "CULTURAL CON-FUSION: The Nyahbinghi Order Statement To The Minister Of Culture Relating To The Dean Fraser Produced Album "Nyahbinghi Christmas" the Priest made it clear that he was not amused by the caricatures and misrepresentation which were, in addition to being disrespectful, were opening Rastas to ridicule.
"The Central Confusion Is That Nyahbinghi Promoting The Santa Claus Christmas Carols Of December 25th As A Parody Of The Culture Crosses A Lot Of Standards.   Nyahbinghi Celebrates Ethiopian Christmas on January 7th With Non Santa Claus "Hat"," he stated.
He continued: "Values.    Rastafari Community Are Neither Happy Or Benefitting From The Ganja Industry! Sacrament Or Culture! Usury!   Reindeer, Camel, Donkey Cart?"
In response to Priest Kelly, Fitzroy Francis called for Rastas to head to the courts to stop Fraser and TADs Records in their tracks.
"Over the years Reggae music practitioners have tried to dilute the dignity of Ras Tafari by disseminating misconception to the massive. As an imple of the Order of the Nyahbinghi, I know this is gross disrespect and sacrilege by using the name in the manner in which it is used," Francis declared.
"Legally, an injunction must be sent out to the artist, label, and distribution company to cease and desist from associated the name "Nyahbinghi" with the Santa Fraud imagery being portrayed. What makes it even worse is that there is not a single Nyahbinghi chant on the album," he added.
56 Total Views, 2 Views Today